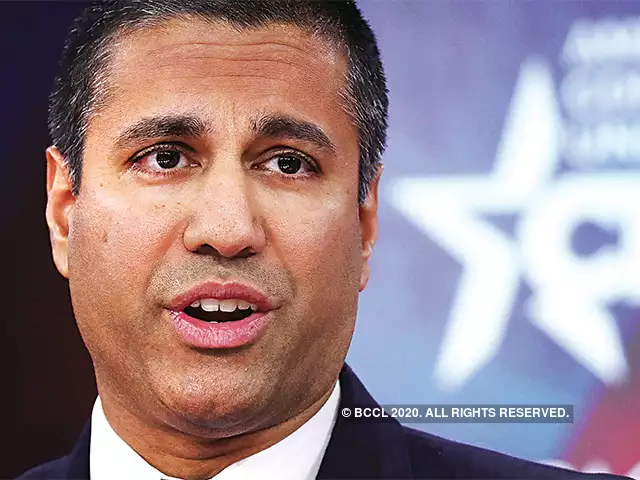 Two years ago, his controversial decision to revoke network, or net, neutrality in the US triggered a massive backlash. Unfazed by the criticism, Ajit Pai, chairman of the Federal Communications Commission, argues that rolling back net neutrality — a principle that requires internet service providers to treat all communication on their networks equally — can in fact spur fresh capital investments, particularly in emerging and developing economies such as India.

In an interview with Surabhi Agarwal on the sidelines of the Consumer Electronics Show in Las Vegas, he said that while every country has to take its own decision (on the issue), "since India has a close relationship with the US, the lines of communication on this front are open". Edited Excerpts.
Your decision to repeal net neutrality was widely criticised. Are there any signs that it was beneficial?
I remember a lot of predictions were made about it being the end of the internet as we know it, that it would work one word at a time, you won't be able to access your favourite websites, you will have to pay $5 to post on Instagram. Two years later, the average fixed broadband speeds in the US are up more than 60%, according to independent reports.
More fiber was deployed in 2019 than in any previous year. Millions more Americans have gained access to the internet for the first time, venture capital in 2018 set a record in terms of funding for startups.
These are the types of things that prove that our decision (to have) a market-based framework was the right one and all these historic, hysterical predictions were completely false. We don't want to see any blocking of content or throttling, we want to see transparency.
India has taken the opposite position on this issue…

Every country has to make its own decision and I told (Trai chairman) RS Sharma this as well. From our perspective, the proof is in the pudding. The last two years have been extremely successful and instead of dwindling and going away, the internet is stronger than ever.
Is this is because the US is a developed economy?

I think it is the other way. Given that (India) is a developing economy that means that the capital expenditures that are necessary to make these broadband networks are going to be even more difficult to come by. You would want to have more market-based frameworks that encourage companies to raise capital, hire workers (and) build networks.
That is just an iron law of economics, if there is no return on investment that companies make, they are not going to engage in those activities. But it's a decision that every country has to take.
How do you see the unfolding of the 5G ecosystem, what are the risks?

There are two different aspects to the issue. To put the building blocks in place to (ensure) American leadership in 5G, we've adopted what I've called the 5G fast plan. This involves getting more spectrum into the commercial marketplace, making it easier to deploy wireless infrastructure and promoting fiber deployment.
On the security side, the fact that we have so many more connected devices increases the security risks to the networks and into the devices themselves. So, we are working domestically here in the United States to make sure that, for example, FCC funds are not used by companies that may present a national security threat.
I have also been traveling abroad to meet some of our counterparts and discuss the US views on security and, to also hear their views. I just returned from a trip to Malaysia, Singapore, and Vietnam and I talked to my Indian counterparts as well. Our point is that we simply want to embrace a risk-based framework, and not just single out any particular company or even country, but just understand the risk of any equipment or services going into our network. If we embrace such a risk-based framework then all of us will be better off.
Do you interact regularly with Indian counterparts on these issues?
Indeed. I was in Delhi (a year ago) and I had a chance to meet with TRAI chairman Sharma who is a dear friend and, other ministers in the government. We've had a chance to meet in various forums both in India and the United States and also abroad, we recently shared our views and heard their views. Generally speaking there is an appreciation on both sides of the need for data security.
The Indian government recently allowed Huawei and other companies to go for 5G trials… We will continue to work with them to understand their point of view and to also share our point of view. At the end of the day, as I said, it involves a risk-based framework and that's a decision for every country to make. And, certainly a country that is as close to the United States as India is, we would want to continue to have those lines of communication open.
There is a massive data explosion in India, what in your view is the ideal way to regulate this space?
From our perspective and based on the US model, light-touch regulation allows a marketplace to develop organically. Obviously every country has to make its own decision.
But in our model, (we) have seen a lot of success, both in terms of the networks that are built and applications and services that developers rely on. And, that's certainly what we would recommend to any country that's interested in finding innovation. Every time I go to India, I've always been very impressed at how much it's changed over the years. It has very talented, entrepreneurial and innovative people. So, I certainly would encourage India to take advantage of that asset.




tech.economictimes.indiatimes.com